Thanks to this tour you would get to visit the enchanting Paestum, ancient beauty of "Magna Grecia" (the great Greek empire) and today's worlds heritage, known all over the world for having kept in a almost perfect state its ancient structures.
Initially named "Poseidonia" for the devotion to the god of the sea Neptune, the town still shows proudly great monuments such as the amphitheater, the hole, the thermae and the "Tempio italico" from the roman period.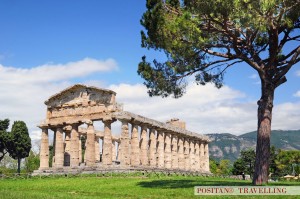 Of great prestige are also the temples among which stand out for their monumental beauty" the temple of Neptune and Cerere and the house of the diver", enriched with fresco, statues and jewellery.
You would spend a unique day participating to the numerous festivals that get together the exponents of the art of dancing allowing you to have a relaxing afternoon on the beach or, to regenerate yourself walking thru the flourishing landscape that the town offers you.
This post is also available in: Italian